On Tuesday, April 13, 2021, students of St. Basil Academy in Jenkintown, PA participated in the virtual poetry recital contest honoring Ukrainian poetess Natalka Bilotserkivets, organized by the Josyf Slipyj Research Center under the aegis of St. Sophia Religious Association of Ukrainian Catholics, Inc.
The Judges: Iryna Ivankovych, President of the St. Sophia Religious Association, and Alexandra Penkalskyj, Vice-Principal of St. Basil Academy, graded each performance on the fluency of the recital, clarity of pronunciation, intonation, artistic performance, and expression.
The winners of the contest were: 1st place – Anastasiya Bloshchynska (Gr 12); 2nd place – Madeline Zetick (Gr. 12); 3rd place – Natalie Hrytsay (Gr. 11).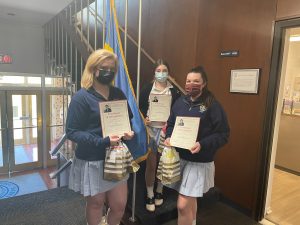 In her address to the participants, Natalka Bilotserkivets stated, "I don't know if any of today's readers compose poetry and consider themselves poets, but I would like you to find in my poems something close and meaningful for you. Maybe it will be a feeling of the only land where we all live – a specific home, street, city; the countries of your residence – and the distant country of their ancestors, where God is greeted with pussy willows, and spring reminds some and promises others the first snowdrops and the first kisses."
Participants were congratulated on their excellent performance. All contestants were awarded commemorative certificates and gifts. The sponsors of the event presented the winners with prizes. This is the sixth poetry recital contest organized by the St. Sophia Association for the students of the St. Basil Academy.
St. Sophia Religious Association Press-Bureau
Picture (from the St. Sophia archives): Winners of the contest.