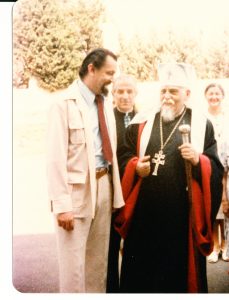 Леонід Рудницький
Уривок із спогадів про Патріярха
Звичайно так буває в житті, що чим старший чоловік, тим більше він живе минулим, згадуючи часи, коли був молодим. Пам'ять про роки молодости наповнює життя старшого віку і дає нагоду втекти від немилого, а то й важкого сучасного в далекі, часто ідеалізовані дні молодости. У літературі є багато прикладів того роду ескапізму, себто втечі з сучасности. "А згадаймо, може серце хоч трохи спочине", каже Тарас Шевченко і лине думкою у славну добу гетьманів, а Микола Зеров, пишучи про дванадцять Евангелій у вірші "Чистий четвер", сприймає їх як алегорію "про наші підлі і скупі часи".
Згадуючи минуле, ми часто ідеалізуємо тих людей, які тоді були з нами і які вже відійшли у вічність. "De mortuis nil nisi bene", – каже старинна приповідка, і це мабуть головна причина цього нам притаманного наставлення до того, що було колись.
Боже Провидіння дало, що з сибірської тундри, по вісімнадцяти роках заслання та каторги, прийшов року Божого 1963 до столиці первоверховного апостола Петра, український ісповідник віри Йосиф Сліпий, і став совістю Ватикану та розпочав новий етап в історії нашої Церкви.
І так, як колись він із нетрів Казахстану, чи каторжних таборів Колими своїми посланнями закликав до бою свою Церкву й свій нарід проти червоного антихриста, та своїми словами навіть найбільш зневіреному давав нову силу і віру, так і після його звільнення (завдяки зусиллям Папи Івана XXIII і Президента США Джона Ф. Кеннеді), його виступи та промови на світовій арені, вказували цілому християнському світові на небезпеки угодовства з цим же червоним антихристом.
Твердий і незламний був його дух на засланні: "Бог з Вами" – писав він з нагоди Різдва Христового 1947-го року. "Бог є і буде всюди з Вами, дорогі Браття і Сестри. Бог є у Ваших хатах, в містах, у селах. Бог є з Вами на важкій колгоспній панщині. Бог є з Вами у Ваших землянках і підпільних сховищах. Бог є з Вами в тюрмах і засланнях. Бог є з Вами в час Ваших мук, тортур і розстрілів. Бог є і з нашими стрільцями-повстанцями. Бог є і буде все і всюди з цілим нашим многостраждальним народом у час його найбільших страждань і мук. Він благословить Вашу боротьбу проти антихриста та винагородить щедро всі Ваші муки і кривди. Віруйте Йому одному. Тримайтесь своєї віри батьківської, своєї рідної землі батьківської, своїх хат, своєї мови і Божої правди. Не бійтеся гонення, труду, жертв і мук, бо все те для народу нашого і для Христа й Бога-Отця нашого". Ця жахлива дійсність, що виповнювала тоді щоденне життя нашого ісповідника віри і яка випробовувала його вірність Христові та Його Церкві, що гартувала до подільших випробувань, ще досі не досліджена як слідю
Тут, до певної міри, «завинив» сам  Патріярх Йосиф. Він не дуже охоче розповідав про тортури і насилля. У його автобіографії, написаній (подаємо за автографом) «під час ферій 1963 ш 1964 р. в Монастирі отців пасіоністів в Неттуно», дуже мало сказано про фізичне переслідування його. Ось один з нечисленних описів допиту:
«Слідчий Крикун запровадив мене на визов до заступника начальника, який робив вражіння звірюки, щоби самому переводити допити, в яких він тамм небагато довідавя. На однім з таких допитів, він розлючений казав, що кости мені поломить, якщо я не скажу всього і казав секретарці за братися з почекальні. Лишився тільки він, Горюн і я. Зачався терор і він готов був вже до побоїв, але в тім моменті прийшов якийсь підполковник, викликав його, і по короткій розмові мене виведено. Крикун запровадив мене до свого ґабінету і я сам тоді сидів. Здається, що тоді усунено чи перенесено заступника начальника, бо вже не було більше про нього слуху. То був палець Божий, бо він міг мене тоді вбити».
В його автобіографії ці згадки про тортури дуже епізодичні, губляться серед іншого. Читаючи, мимоволі відчуваєш, що автор не хоче про них писати. Ці тортури слідчі часто намагалися замінити на спокуси. Знаємо, що Блаженнішого ще в 1960-му році завезлии із Сибіру в Київ, де йому зроблено ряд «пропозицій». Совєтський уряд дуже хотів, щоб глава УГКЦ відрікся Риму і Святішого Отця і за це обіцяли йому сан Патріярха Росії. Блаженніший рішуче відкинув ці пропозиції. Ось одна з його згадок про такий епізод його тюремного життя (ст. 192): «В Києві на стації чекало дві машини і завезли мене до тюрми на вулиці Короленка 33. Всі були здивовані, хто там має приїхати, бо вязнів возять «чорним вороном», а не машинами. Мене завели до камери, в якій було ліжко, диван на підлозі і на стіні, столик та крісла, чиста гостинна, харч окремий, чого в тюрмі не буває. Підполковник Купцов спитав мене, чи я не згодився ю працювати в Академії Наук, як науковець. Я сказав, що то не виключене, думаючи, що там зможу познакомитимя з київськими умовинами. Але то була тільки сповидна пропозиція, бо тоді делікатно зачали мені предкладати і прохати, чи я би не сказав одного словечка проти Папи. І тоді ціль мого привезення до Києва та гарного приміщення в тюрмі стала мені ясною».
За такі відмови його карали. Ось як про це йдеться у статті Владики І. Хоми (ст. 34-35): «Там, у київській тюрмі, в ізоляторі, Блаж. Йосиф, маючи 70-тий рік життя, виснажений до краю 16-літньою каторгою та допитами, написав на самі свої уродини 17 лютого 1961 року два довгі письма-оскарження совєтської влади на україні. Одне було заадресоване до першого секретаря комуінстичної партії в Україні, а друге до українського уряду.
Мабуть за те кинули його на найтяжчий етап з Києва до Мордовії, куди приїхав в жовтні 1961 року. 12-ть жахливих пересилок, з найгіршими бандитами, в голоді і нічних холодах Десь над Волгою, думав, що згине, сів коло «параші» і тоді якісь незнайомі прийшли і взяли його ближче вікна. Дуже тяжко хворий доїхав д о Мордовії, дістав запалення легенів і лікар положив його до стаціонаря, але «опер» викинув його зі стаціонаря з гарячкою 39-40°Ц. Мусів лежати в бараку і литовський священик о. Сваринскас-фельчер врятував його піґулками пеніциліни, але ослабло серце. Найтяжче було йти в «уборною» поза табір на холоді, у пурґу, при 40°Ц морозу.
По місяці-півтора відіслали Блаженнішого назад до ляґру «вєрующих». Раз вигнали Блаженнішого вночі на якусь роботу і начальство думало, що він не вийде і впродовж 2 годин було 3-4 контролі, від найвищої до найнижчої влади, щоб провірити чи він вийшрв вночі на роботу».
Твердий і незламний був його дух і після вісімнадцятилітнього заслання. Дня 23 жовтня 1971 року на двадцять шостому засіданні третього Папського Синоду, в присутності Святішого Отця Папи Павла VI, тодішній наш Верховний Архиєпископ сказав такі незабутні потрясаючі слова: "Українці-Католики жертвували гори трупів та ріки крови за католицьку віру і за вірність Апостольській столиці. І тепер вони терплять жахливі переслідування, і що гірше, ніхто не стає в їх обороні. Тепер внаслідок дипльоматичних переговорів, українців католиків, які так багато страждали як мученики й віросповідники, усунено як незручних свідків минулих страхіть. Ватикан став в обороні католиків латинського обряду, але він забув 6 міліонів українських вірних, які страждали релігійні переслідування".
Ці слова справді потрясли світом. Ісповідник віри Кир Йосиф Сліпий став тоді для українців, а особливо для моєї ґенерації, уособлення всіх тих християнських чеснот, які були вже дещо призабуті у часи добробуту і спокою. Він пригадував нам і цілій Вселенній, що сутність Христової Церкви не є зовнішній блиск, не угоди і конкордати, не хитра дипломатична гра. Ми усі тоді зрозуміли, що правдива сила і велич Церкви – це гідна поведінка Божого люду – ієрархів, священнослужителів і мирян, оперта на мужнім зносенні страждань, непохитній вірі у Божу справедливість і невтомній боротьбі за Божу правду.
Вплив Патріярха Йосифа особливо на людей моєї ґенерації був величезним. У ці негеройські, можна навіть сказати, угодницькі часи т.зв. Ostpolitik  Ватикану, ми, члени УКЦ, об'єднані у Патріярхальному Русі, стали творити свого роду ecclesia militans – воюючу Церкву у найкращому розумінні цього слова. Завдяки нашому Патріярхові, ми почали почувати себе членами могутньої духової спільноти, яка під його проводом мобілізувала не тільки українських християн (для об'єктивности, мушу додати, що нажаль не всіх), але і також мала стати важливим чинником у лоні Вселенської Церкви і її дороговказом на шляху до правдивого екуменізму. Ми були наснажені духом величі нашого Патріярха. Ми захоплювалися його словами і ділами. Він був для нас будівничим духової держави, а ми – його лицарі-слуги. Нагадаю лиш коротко деякі його конкретні почини:
Патріярх Йосиф відкупив і відновив найстаршу українську парохію поза етнічними межами України Храм Святих Сергія і Вакха у серці вічного міста;
Він заснував Український Католицький Університет і велів зорганізувати його філії по цілому світі;
Він збудував прекрасний храм Св. Софії у Римі;
Він відновив студитський устав і закупив монастир Студіон на периферіях Риму;
Він допоміг закупити будинок, де сьогодні міститься УВУ в Мюнхені;
Він об'їхав усі українські поселення у світі, зміцнив нашу громадськість, надаючи їй почуття єдности і сукупности, а нам, його молодим воїнам, почуття причетности до великого діла і охоти до жертвенної праці. Він заохочував нас  до  неї ділом  і  словом,   інколи  дуже  простим  і  всім зрозумілим. Наприклад, у Римі, підчас торжественної літургії у день 80-річчя його народин, він сказав: "Кожний з нас мусить сповнити свій обов'язок. Історія наші діла оцінить, а Бог нас винагородить". Які прості та легко зрозумілі ці слова, яка у них глибока істина.
Я особисто буду завжди вдячний Божому Провидінню, що я мав нагоду жити в той час, коли він був фізично тут між нами і служити йому. Я йому завдячую дуже багато щодо свого особистого розвитку, як людина і науковець. Через нього я глибше збагнув сутність життя і природу людини. Про це можна би говорити годинами. Але це було б не на місці. Сьогодні я хочу тільки поділитися з Вами трьома епізодами з мого життя, які дали мені змогу дещо вглибитися в особистість і характер Патріярха Йосифа, краще зрозуміти його, як людину, і бодай дещо збагнути це йому притаманне таїнство ісповідництва віри.
Перший епізод взятий із Евхаристійного конґресу, що відбувся у місяці лютому 1973 року у Мельбурні, Австралія. Блаженніший Патріярх Иосиф летів з Риму до Мельбурну 32 години. Зараз після приземлення літака обступили його журналісти і відбулася доволі імпромпту пресова конференція. Блаженніший виглядав свіжим і цілком невтомленим, він жваво і бистро відповідав на різні запити репортерів. Один із них спитав його, чи він читав тоді дуже популярний роман "The Shoes of the Fisherman" австралійського новеліста Морріса Веста, який свого героя, Папу Кирила Першого побудував на особі Патріярха Йосифа, і що він про цю книжку думає. Патріярх махнув рукою і відповів: «Та що я можу про це сказати, книжка Веста це є фантазія», – він ужив англійське слово fiction. Репортери сипали дальше питаннями й врешті впало це, що їх найбільше цікавило: "А чи Вас там, у Сибірі, дуже мучили?" Патріярх легко усміхнувся і відповів: "Читайте книжку пана Веста, там все написано". Цей, німці кажуть schlagfertig, спосіб відповіді на неприємне питання викликав веселий і подивляючий сміх між журналістами і рівночасно продемонстрував почуття гумору Патріярха і його дотепність; а у нас, українців, знову ж, певну гордість, як легко і вміло, таким невимушеним простим способом наш Патріярх дає собі раду із запитаннями від міжнародної преси. Цю шляхетну простоту Патріярха мали особливу нагоду пізнати ці люди,  які з ним співпрацювали і які йому служили. Ще до сьогодні ходять про нього різні анекдоти – автентичні й фіктивні – у Римі і різних містах світу, де він бував.
Варта би їх зібрати, бо вони є також свідоцтвом його величі та гуманності. Саме ці його прикмети і його благородний вплив на нас, "малих" людей, схопила в одному із своїх віршів поетеса Зоя Когут, який дозволю собі тут навести в цілості:
Бредеш життям – байдуже і безкрило,
Десь в натовпі розтоптана пилина…
І раптом – відчуваєш дивну силу!
І раптом – розправляєш гордо спину,
І голову підносиш:
Ти – Людина!
Ти – частка вічности!                                                                                     Тобі дано любити,                                                                                               Тобі дано – дивитися на небо!
Тобі дано – твій клаптик твого світу
Світлішим залишити після себе!
Тобі дано боротись і горіти!
Тобі дано!.. А ти бродив безсило.
Хто ж міг в тобі надії воскресити?
Хто поглядом підніс твій зір від пилу?
Лиш сильний духом міг малу людину
Так сколихнути!..
Усміх Ваш… Обличчя…
Хто зрозумів, що в день той, в ту хвилину
Ходив між нами
Велетень сторіччя
І Син Великий – України?!
Цей вірш, заголовок якого "Хто зрозумів", може найкраще схоплює ту людську велич нашого Патріярха і його вплив на таких людей, як ми, у яких він зумів запалити ту іскру любови до своєї Церкви і свого народу.
Другий епізод, який доволі чітко залишився мені у пам'яті, підкреслює інший вимір людськости нашого святця: Гаряче римське пообіддя. Навколо УКУ повна тиша. Всі відпочивають – панує глибока ненарушима своїм маєстатичним спокоєм santa siesta. Тільки я чогось не витримав у кімнаті, вийшов на двір і став при воротах університету між статуями Котляревського і Шашкевича та покурював цигарку. Раптом тишу порушив гуркіт мотору. На площу Св. Софії в'їхало елегантне авто, з якого висипались чотири монахині і, побачивши мене, відразу попрямували до входу університетського будинку. Вони мені представились: сестри з Голяндії, які на рекомендацію Кардинала Віллібрандса приїхали сюди запізнатися з російською Церквою і російською культурою. Я їх чемно, але, признаюся, без великого ентузіязму, привітав і зараз же поправив їх ляпсус; мовляв – це українська Церква, український університет і російську культуру тут годі шукати. Попровадив я їх у бібліотеку, де вони, оглядаючи фонди, почали дивуватися, як багато тут російських книг. Я знову доволі здержано звернув їм увагу, що це не russische, a ukrainische Bucher. Говорили ми, до речі, по-німецьки. Але коли вже одна з сестер защебетала мені щось про російського кардинала Сліпого, з яким вони хотіли б мати авдієнцію, то мені урвася терпець і я з коротким arrivederci залишив їх у бібліотеці і вийшов на двір, щоб з досади закурити. У дверях зустрів я Патріярха у камелявці із жезлом, у доброму настрою, він відразу побачив монахинь і зараз же дав мені вказівки: "Пане професоре [він дуже цінив професорів і любив вживати цей титул], маємо гостей, не лишайте їх самих, підіть до них, займіться ними, розкажіть їм про нас, про нашу культуру…" Я трохи зімнявся, адже як сказати Патріярхови, які то мудрі ці наші гості, але таки ляпнув так просто з моста: "Та я вже пробував, Ваше Блаженство, але вони Вас називають росіянином". "Що Ви кажете",- скрикнув Блаженніший, – "от дурні баби! Лишіть їх в спокою". На мене ці слова зробили дуже велике вражіння. Перший раз у моєму житті, я відчув себе майже на такому самому рівні, як Патріярх і з великою насолодою пішов у бібліотечну салю і здивованим монахиням, які, побачивши постать кардинала вже були рушили до нього, сказав з великою насолодою слова: Seine Seeligkeit der ukrainische Patriarch Josyf Slipyj erteilt heute keine Audienz.
Третій епізод, яким кінчаю це коротке своє слово, відбувся також у Римі. Був це час дуже важкий для Патріярха Йосифа. Східна Конгрегація і деякі з наших владик спричинили йому тоді велику прикрість. Він нічого не говорив нам, але по нім було пізнати, що він дуже страждав. Ми усі професори і студенти, котрі були на курсах в Римі, відчували це. Нам жаль було нашого Патріярха, але ми не могли його потішити, ми ж не були йому рівними. Він був сам у своїй екзистенціяльній самотності. Ми його майже цілими днями не бачили  я також почувався погано, хотілося щось зробити, але не знав що. І от якось під вечір я пішов до сутеренної каплиці, (яка до речі вже не існує -перетворено її на склад книжок), щоб трохи знайти душевного спокою. У каплиці панували сутінки, блимало світло свічад, а перед престолом стояв Патріярх. Я перехрестився і став при дверях щоб змовити молитву, але мимоволі моя увага зосередилася на постаті Патріярха. Він стояв звернений обличчям до престола і молився, але це не була молитва у звичайному розумінню цього слова. Він підносив руки, здвигав раменами, він розмовляв з своїм Творцем. Мені стало якось ніяково. Я чув як він жалується Богови, як вибачаєтеся перед ним. Мабуть так колись у сибірських казематах він говорив із Всевишнім, коли доводилося зносити фізичні муки і тортури, а тепер духове терпіння. Я перехрестився ще раз і тихо відійшов, відчувши, що я є небажаним свідком інтимної розмови ісповідника віри з Богом. Образ цієї зворушливої молитви Патріярха залишиться у моїй пам'яті до кінця життя.
Святочна громадо, ми, що жили у 20 столітті помимо усіх трагедій і страждань, мали неабияку ласку Божу. Боже провидіння дало нам двох великих святих мужів, які зуміли зберегти нашу Церкву і наш нарід у часи жахливого лихоліття: слуг Божих Андрея Шептицького і Йосифа Сліпого. Що більше: ми живемо у часах, коли сповняються їх візії. Наша Церква вільна в Україні і сильна на поселеннях, її главою є той муж, що його назначив Патріярх Йосиф – Блаженніший Любомир Гузар.
Сьогодні, у цей святочний день і у майбутньому, впродовж нашого цілого життя, дякуймо молитвою і ділами Всевишньому за цю велику ласку і жиймо згідно із словами "Заповіту Блаженнішого Патріярха Иосифа", сказаних до нас усіх: "…Ото ж заповітую вам усім: Моліться, працюйте і боріться за збереження християнської душі кожної людини українського роду і за весь Український нарід і просіть Всемогучого Бога, щоб Він допоміг нам завершити нашу тугу за єдністю і наші змагання за церковне з'єдинення у здвигненні Патріярхату Української Церкви!"